DURIAN EXERCISE ROOM
Period/ 2020.02.06(Thu) ~ 2020.05.10(Sun)
Venue/ Project Gallery, Gyeonggi Museum Of Modern Aart
Exhibition Period
2020.2.6.-5.10


Hosted
by Gyeonggi Cultural Foundation
Curated
by Gyeonggi Museum of Modern Art
Artist
Yu Cheng-Ta
Sponsored
by SandollCloud, SAMHWA PAINTS, Durian Desert Cafe
Gyeonggi Museum of Modern Art (GMoMA) presents its first exhibition of 2020 titled "Durian Exercise Room" by the Taiwanese media/performance artist Yu Cheng-Ta. "Durian Exercise Room" is a participatory exhibition, connecting an ordinary theme of 'exercise' with an exotic atmosphere of 'durian.' 'Exercise room,' the exhibition space full of various daily objects, texts and unique characters together with lots of dazzling colors, attracts the attention of visitors or keeps their eyes from resting on a single spot. The space provides visitors with a multi-sensory experience, using visual, auditory, gustatory and tactile elements. In addition, the whole exhibition space becomes a selfie-friendly zone to encourage participation of visitors by taking their own photos. This space, which was inspired by the characteristics of Hwarang Yuweonji providing a nice environment for exercise, equipped with an inline skating link, artificial rock climbing walls, exercise equipments as well as a temporary winter tunnel for exercise, invites visitors to spend a pleasant time for play and self-expression activities using their own bodies.
"Durian Exercise Room" is a follow-up project to the artist's previous project "Museum of Durian" commissioned by New York Performa Biennial in 2019. Durian with a range of labels such as 'stinky fruit,' 'forbidden fruit,' 'king of fruits' and 'superfood' makes us think about the boundary between exotic and disparate values, in other words, the concept of 'exotic other' inside ourselves. The outdoor participatory performance of "Durian Exercise Room" by the artist will also be held during the exhibition period. We would like to encourage those who are interested to volunteer and participate in this event.
Yu Cheng-Ta has shown works based on his diverse experience relating to culture, language and gender identity on the border between fiction and non-fiction. His own humors and fictional devices that he explains as 'life theatre' are rooted in a clear recognition of the reality. In this exhibition, the artist takes on the role of a fictional character named 'FAMEME,' who was born in a durian farming family in Asia. FAMEME is a successful businessman who promoted his fashion brands throughout Asia as his designs went viral on social media, as well as a 'social media celebrity' with a great number of followers. After launching a durian promotion as part of his family business in November 2019 in New York, he went to Taipei in January 2020 and just arrived in Gyeonggi province. FAMEME wants to inform Koreans of powerful effects of durian and communicate with them. This whole process will be an opportunity to see how social media changes the way today's people communicate as well as their surroundings.
Yu Cheng-Ta has been working actively in the contemporary art scene. He participated in a number of prestigious international exhibitions and festivals, including the Performa Biennial in 2019, the Berlin International Film Festival Forum Expanded in 2015, The Shanghai Biennial in 2014, the Asian Art Biennial in 2013, the Venice Biennale Taiwan Pavilion in 2009 and the Taipei Biennial in 2008. He also had solo screening at Centre Pompidou in 2018, and hold solo exhibitions at Taipei Fine Arts Museum in 2014, Kaohsiung Museum of Fine Arts in 2013. Since 2017, he has presented performances and works in a duo with Singapore artist Ming Wong called 'Watermelon Sisters,' which was created for the exhibition "Spectrosynthesis – Asian LGBTQ Issues and Art Now" in MOCA Taipei, the first queer show presented in a public museum in Taiwan. His first exhibition in Korea was a group exhibition entitled "Gwangju Biennale Celebration Korean & Taiwanese Contemporary Art Exhibition – Life in Between Delight and Discomfort" at the Gwangju Museum of Art in 2016. Yu was also selected as one of the '45 Most Exciting Contemporary Artists' by the Korean monthly art magazine 'Art in Culture' in January 2018.
From 2020, GMoMA will work on the Young Artist Project, a new project intended to foster young artists and help them develop their creative capacities. We expect this exhibition to focus on experimental artists and contribute to establishing a network of contemporary art between Korea and Taiwan. The Museum also strives to provide experience of a pleasant and friendly museum through a variety of participatory content and offer the opportunity to enjoy a broad spectrum of art and culture. We hope to stay connected and engaged with our visitors in this space exploring contemporary issues.
Minji Kang, Curator of Gyeonggi Museum of Modern Art
Work of art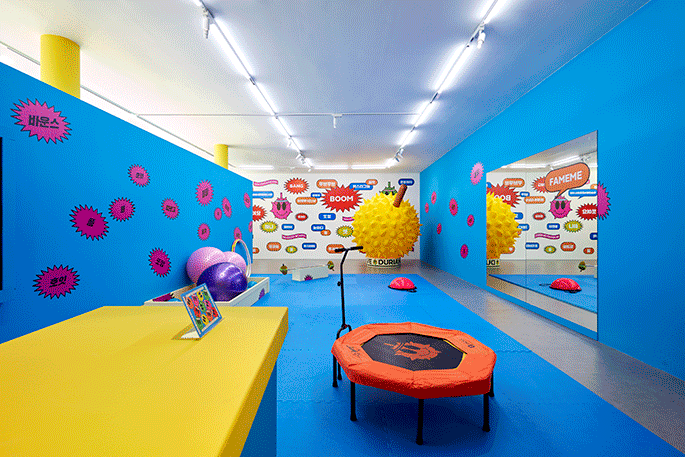 Installation view of DURIAN EXERCISE ROOM, Project Gallery of Gyeonggi Museum of Modern Art, 2020.
Courtesy of the artist & Gyeonggi Museum of Modern Art.