Art Is Form
Period/ 2017.10.25(Wed) ~ 2018.08.19(Sun)
Venue/ Gyeonggi Museum of Modern Art
"A line is a trace of movements, and one of the oldest forms of art in the history of man."
– Rudolf Steiner –

We start to draw lines in our childhood when we are able to hold something in our hand. We come to be satisfied with how our line turns into a circle, rectangle, triangle, and shapes such as a star. We all have a memory of our childhood, drawing family in a sketchbook. Thus, a line is a trace of a hand's movement, and the first picture by oneself.

The educational exhibition, 'Art Is Form', at Gyeonggi Museum of Modern Art offers an opportunity to enjoy works of contemporary artists by starting from a line to forms of nature, the human figure and from imagination. We can look at the line and the forms of nature interpreted by artists, and traveling to various mountains and forests in the world through virtual reality (VR). And we can think of nature around us in a new perspective with the idea of line and form. Moreover, by observing human movements through moving images and Korean paintings, we can attempt to find line and form in our body, and express them. Interactive art gives an opportunity to understand lines through our body by recognizing movement of our muscles with a kinetic sensor. We can also see line and form floating in the air and freely moving from this process. Those new experiences on line and form through art works give an opportunity to see the world with a new point of view. And we expect to find diverse lines and forms in our everyday life.
Main Works
Yoo Youngkuk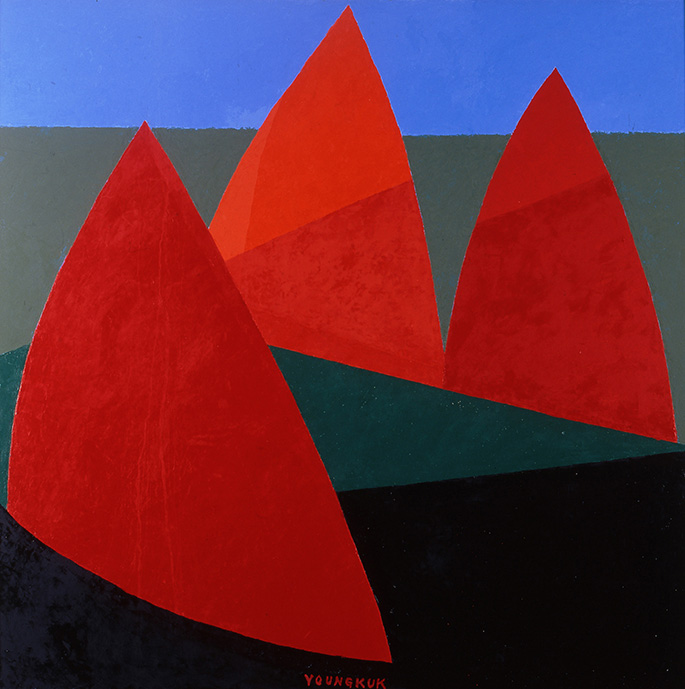 Yoo Youngkuk, Mountain, oil on canvas, 132x132cm, 1997
Yoo Youngkuk is one of the first abstract artists in Korea. He expressed nature as an abstract form composed of lines, surfaces, and colors, with mountains as the subject matter. In his painting, the triangles represent mountains, the circles light, and the ovals trees. The mountains represented in his works are said to be those in Uljin, his birthplace that he missed. The artist, who left us with his works of lyrical beauty with their beautiful colors and bold shapes, bequeathed the epitaph that goes, "Mountains are inside of me." For an artist who worked with the theme of the mountains of his home for a lifetime, mountains were an expression of nature in his soul.
Yi Hyuk Jun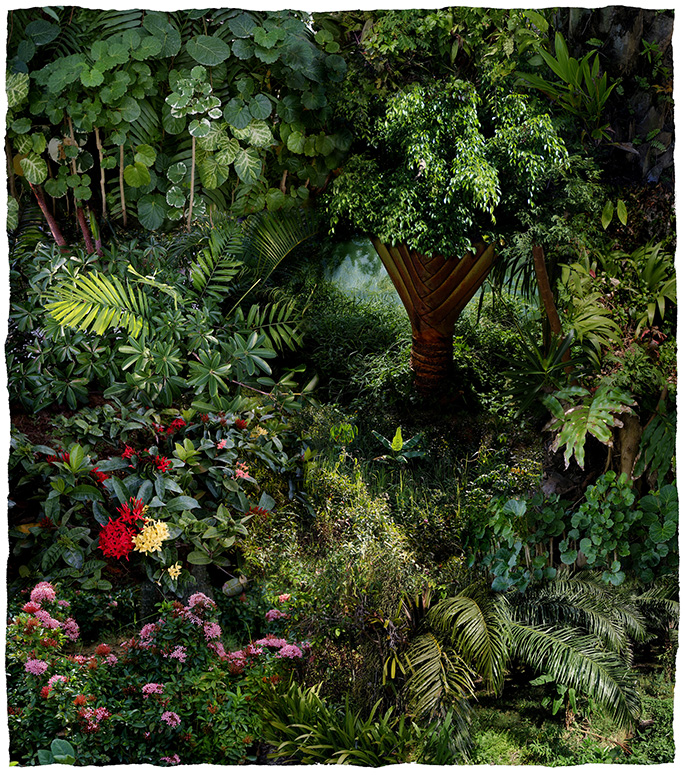 Yi Hyuk Jun, Forest #18, digital pigment, 130x115cm, 2009
In the photos by Yi Hyuk Jun exists a 'fantasy'. The photographer takes a photo of nature and the urban environment of several other places around the world, digitalizes them to create 'a fictitious forest', and prints the imaginative image divided into 30 separate photos. The 30 photos are then patched together seamlessly by the artist's hands to complete a single image. In this way, a noble natural landscape that does not exist in the world is created based on Yi's imagination.
Oh Jaewoo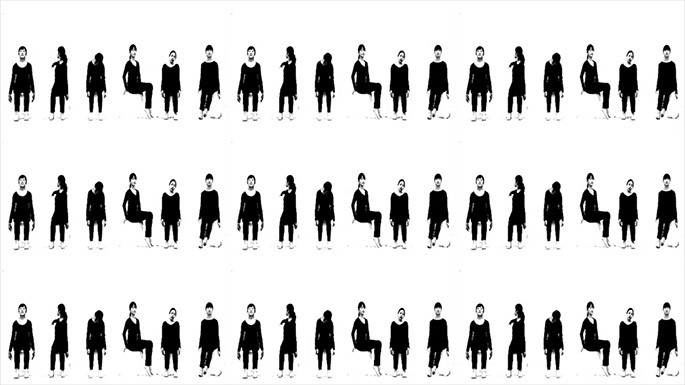 Oh Jaewoo, My Images and Your Echoes in a Flowing River; 4'50", media installation; composition: Sin Mun-seon; choreography: Ha Ye-ji, 2011
What interested Oh Jaewoo was the movement of the body that is constrained by the modern industry. He discovered that the human movement becomes that of a machine, observing workers' repetitive movements going along with those of a machine on the shop floor. He made the routine and repetitive movements of the workers in the system of completely specialized labor into the motif of his work, choreographed accordingly, and added rhythm to it in order to produce the video. Through the motions of the dancers in the video, you will discover new lines, shapes, and forms of our body.
Suh Se Ok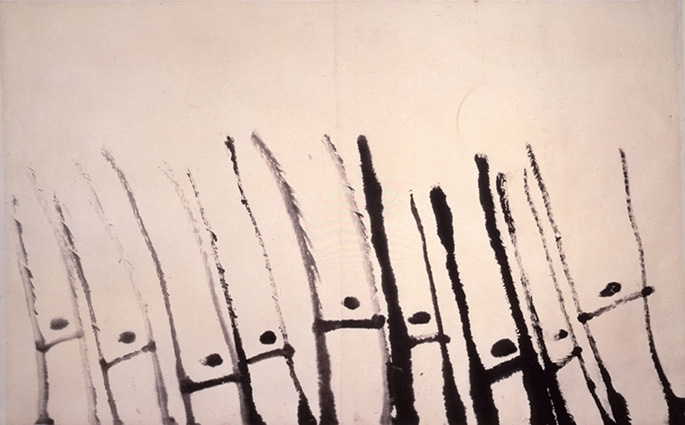 Suh Se Ok, Dancing People, ink on mulberry paper, 164x260cm, 1987
Suh Se Ok is a pioneer artist of Korean modern painting. In the 1950s, he infused a breath of fresh air into the modern art scene in Korea with his abstract ink-and-wash paintings where he exclusively employed dots and lines. Since the 1970s, he released the series Human, depicting human images. Dots representing heads and lines representing moving bodies and arms, the simple drawing lines in his works do surprisingly well in delivering the diverse movements and expressions of humans.
Lee Byungchan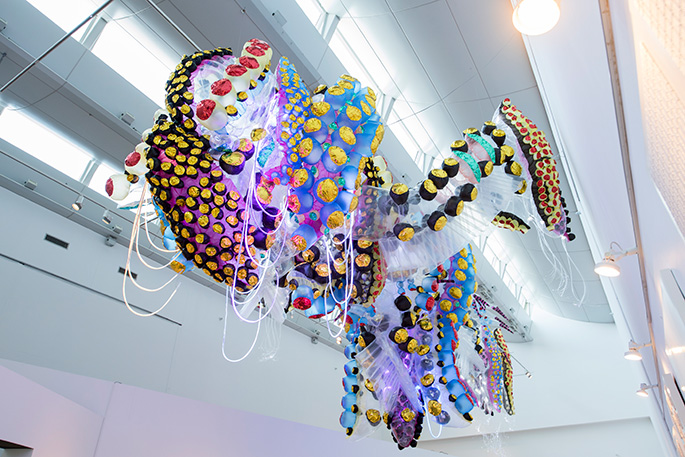 Lee Byungchan, Ecosystem of Consumption – Expanded Heavy Mass; installation, altering size, 2017
Lee Byungchan creates bizarre-looking mobile sculptures with the materials used in daily life. He materializes the forms from his imagination by patching together the colorful materials from plastic bags for carrying things to the foil of the helium balloons that we can find at the amusement park. It is said that a black hole, which pulls everything into it, has immense mass. Lee starts from his hypothesis that a huge black hole with massive gravity pulls everything into it and leaves only the data behind, and the artist depicts a ready-to-erupt, torturous image under the pressure of pulling the neighboring things inside. The work is an imaginative depiction of the chaotic image of space.
Joon Y. Moon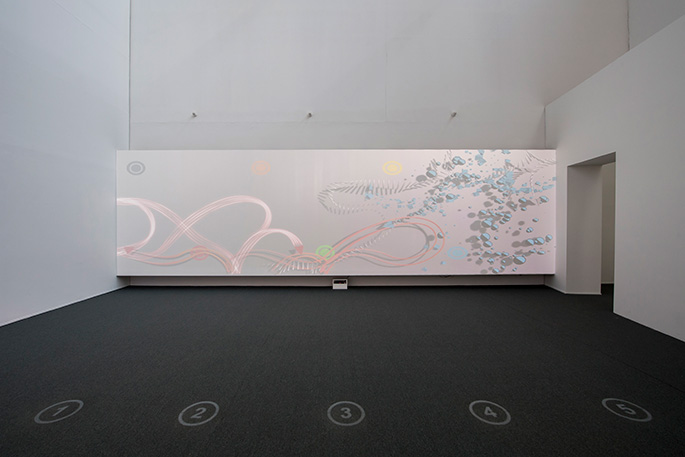 Joon Y. Moon, Flying; projector, Kinect sensor, computer, invented software; altering size, 2017
Joon Y. Moon is an interactive media artist who works with art and technology. In particular, he has developed software using the Kinect sensor to recognize the human skeleton in order to make the computer identify the user's movement. He is interested in experimenting and exploring what kind of art can be done using such technology. Based on this interest, he has released a series called Flying. The artist expects that, through his interactive media work Flying, users will be reminded of their childhood memories, imaginations, and dreams. The emergence of lines following the movements and the harmony they make together will offer a new experience of lines, shapes, and forms.
Koh San Keum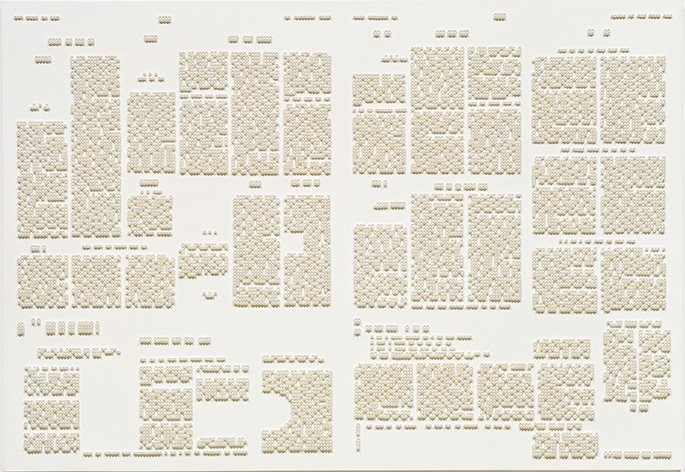 Koh San Keum, An Editorial of Dong-A Ilbo (2007. 01. 12. A36. A35); imitation pearls on panel, oil and glue, 91.5×63.5cm, 2007
Koh San Keum is an artist who does visual translation from text into an image. She makes the letters lose the functions of delivering meaning and become something that only stimulates the visual perception. Looking into her works, you can feel the gaps and rhythms that you could not feel when reading. The artist had once lost her eyesight while she was studying abroad. She has since depicted glimmering images of the world, which she encountered in the process of recovering, using pearls, producing works that allow us to appreciate lines, shapes, and forms made of dots derived from letters.